Specialized Facials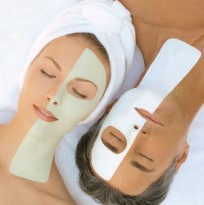 Facial treatments and services date back well into ancient days, fortunately, its has evolved as we have. The services offered and created by Jane, offer a variety of specialized facial treatments which uniquely include knowledge of the ages but also combine todays technology.
Our skin reacts differently from season to season, age to age. Your skin will be taken on a wonderful journey to recovery and regain its youthful vibrant healty appearance!
Specialized Facial Treatments
Ladies Facials: $95-$110 Mens Facial: $90
Acne Treatment
This bacterial fighting facial is effective for those annoying breakouts as well as being gentle and healing. Includes an anti-inflammatory mask and violet, red or blue light treatment in addition to the deep pore cleansing.
Sensitive Skin Treatment
Relieves the most stressed of complexions. This wonderfully calming facial combines a mild pumpkin enzyme and a soothing mask treatment. Treatment includes LED blue light therapy.
Hyperpigmentation and Scarring Treatment
Bring the light back into your skin with this fantastic facial. The Vitamin C and Brightening Polish have powerful enzyme and lightening agents that will instantly brighten your complexion. Treatment includes LED yellow/green light therapy.
Hydrating and Nourishing Treatment
Restore the vitality and youthful suppleness of your skin. This treatment deeply hydrates and nourishes your skin with Syn®-Ake, Hyaluronic Acid and Collagen. Truly a fountain of youth facial treatment. Treatment includes Ultra Sound and LED red light therapy.
Exfoliating Treatments
Derma Exfoliation
Face only $110
Face, Neck & Chest $135
Chemical Exfoliants
Salicylic, Glycolic, Lactic or Modified Jessner
Face only $135
Face, Neck and Chest $165
Discount offered when a series of 3,4 or 6 treatments are pre-purchased!